Espeleotemas Nº 1 - Abril 1991 - Revista de Espeleología
Avance al catálogo de cavidades del término municipal de Dalías (Sierra de Gádor, Almería)
Sánchez Martos F., Torres Palenzuela A., García Sánchez J.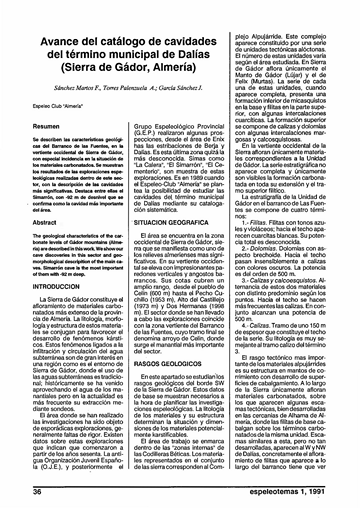 Espeleotema nº 1
Resumen
Se describen las características geológicas del Barranco de las Fuentes, en la vertiente occidental de Sierra de Gádor, con especial incidencia en la situación de los materiales carbonatados. Se muestran los resultados de las exploraciones espeleológicas realizadas dentro de este sector, con la descripción de las cavidades más significativas. Destaca entre ellas el Simarrón, con -92 m de desnivel que se confirma como la cavidad más importante del área.
Abstract
The geological characteristics of the carbonate levels of Gádor mountains (A1mería) are described in thls work.We show our cave discoveries in this sector and geomorphological descripition of the main caves. Simarrón cave is the most important of them with -92 m deep.
Descarga el artículo completo haciendo clic aquí.